---
Sea Level Transport Hydraulic Deck Crane
M/V Lite Weight with the new deck crane
In 2002, a new custom built Hydra-Pro HP30/5T hydraulic deck crane was installed on the M/V Lite Weight. The addition of this telescopic crane has greatly enhanced the capabilities of our vessel. The crane is mounted amidship on the port side, where it can pick, place, and move 4,000 pounds anywhere on the cargo deck. At full extension, it can reach 30 feet from its base on the port side and 10 feet beyond the starboard side. Here are its major features:
Crane will park clear of the cargo deck (fore or aft)
High speed line pull of up to 2 feet/second
Full 360° continuous duty rotation
Dual function controls
6,000 lb. winch with a single-part wire pull
Galvanized steel construction

View from the starboard side




Port side looking aft

Nice close-up




View from bow

View from up on the bridge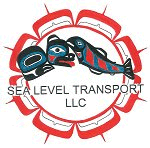 Sea Level Transport, LLC
PO Box 210253
Auke Bay, AK 99821-0253
Cell: 907-321-3450


HOME | M/V LITE WEIGHT | SERVICES | UNIQUE PROJECTS | DECK CRANE | GALLERY | LINKS
---
Here are some of our search words that relate directly to this site:
landing, barge, craft, freight, inter, island, alaska, southeast, marine, transport, cargo, landing barge, landing craft, remote, site, ak, Alaska, AK, SE, se, sites, beach, shore, cabin, locate, locating, location, landings, beach landings, southeast alaska, barging, barges, service, services, barge services, contractor, contractors, marine contractor, marine contractors, consolidator, consolidators, forwarder, forwarding, transportation, transporting, freight consolidator, freight consolidators, freight forwarding, freight forwarder, Juneau, juneau, island, auke, bay, shelter, douglas, elfin, cove, excursion, gustavus, Gustavus, inlet, hoonah, Hoonah, Elfin Cove, elfin cove, skagway, haines, chilkat, chilkats, angoon, sitka, Angoon, whitestone, harbor, colt, horse, admiralty, baranof, chichagof, kuiu, kupreanof, etolin, prince, of, whales, alaska transport, pelican, Pelican, tenakee, Tenakee, warm, springs, Tenakee Warm Springs, Baranof, Baranof Warm Springs, Inside Passage, Alaskan, native, villages, lynn, canal, cross, sound, endicott, sullivan, berners, bay, echo, cove, echo cove, thane, lucky, me, lucky me, taku, seymour, chatham, straight, petersburg, glacier, glacier bay, bartlett, bartlett cove, crane, deck, deck crane, hydraulic, vehicle, vehicles, lumber, building, supplies, fuel, heating, propane, gas, gasoline, diesel, helicopter, helicopters, storage, tank, tanks, excavator, excavators, forklift, forklifts, tow, towing, salvage, salvaging, sling, work, lightering, tending, demolition, waste, environmental, environment, concrete, delver, delivery, dock, prefabricated, pre-fabricated, lodging, mooring, outfall, outfalls.